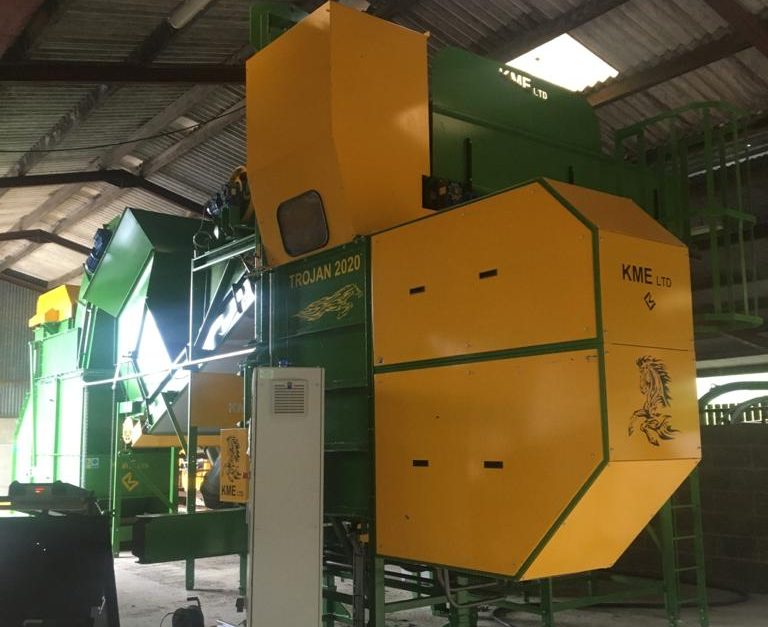 Rebaler for Welsh Farmers
06 Jul 2020
KME install Another great agricultural facility in North Wales for a new to market small bale producer. The client has been producing quality forage for the past 20 years in the traditional large bale style but saw a gap in the market for small 20kg Ken Mills bales for their area. After site visits and discussions about our rebaler we designed their perfect machine.
The system will be processing haylage, hay and straw utilising their existing product range. The facility will be fed large bales, breaking them up & de-dusting if required. Their products are suitable for horses, ponies, rabbits, guinea pigs, chickens and more.
This KME Ltd rebaling facility will be producing upto 140 pack per hour which is our mid range speed. The system can be loaded with 6 large bales on its walking floor and can take large square and round bales without changing settings. The bales are moved to the bale breaker section which has a spiked belt to pull the bale apart, above the spike belt is a doffer unit which keeps the feed of product consistent. The system then has some directional options depending on the product :
HAYLAGE is weighed and then passed to the baling chamber for bagging
HAY & STRAW is passed through to the delivery drum and upwards of 95% of dust, mould and contaminants are removed before being transferred to the weigh conveyor and then the baling chamber.
KME systems now have the option of bale finishings : bagged, strapped or wrapped in a sleeve.
So why choose a KME rebaling system?
These easy to manage bags are ideal for end users to handle and the perfect size for single horse owners to take to competitions.
MAXIMISE YOUR INCOME
High Production rates, from 100 – 180 packs per hour, quick to package requires just one bag (doesn't require 6 layers like a field wrapped bale)
packaging is advertising for your brand of haylage potentially generating further enquiries and sales
seals in nutritious dust free forage for all horse types from native ponies through to top end competition horses.
KME produce the best rebaling systems on the market & are built for hard work and a long life.