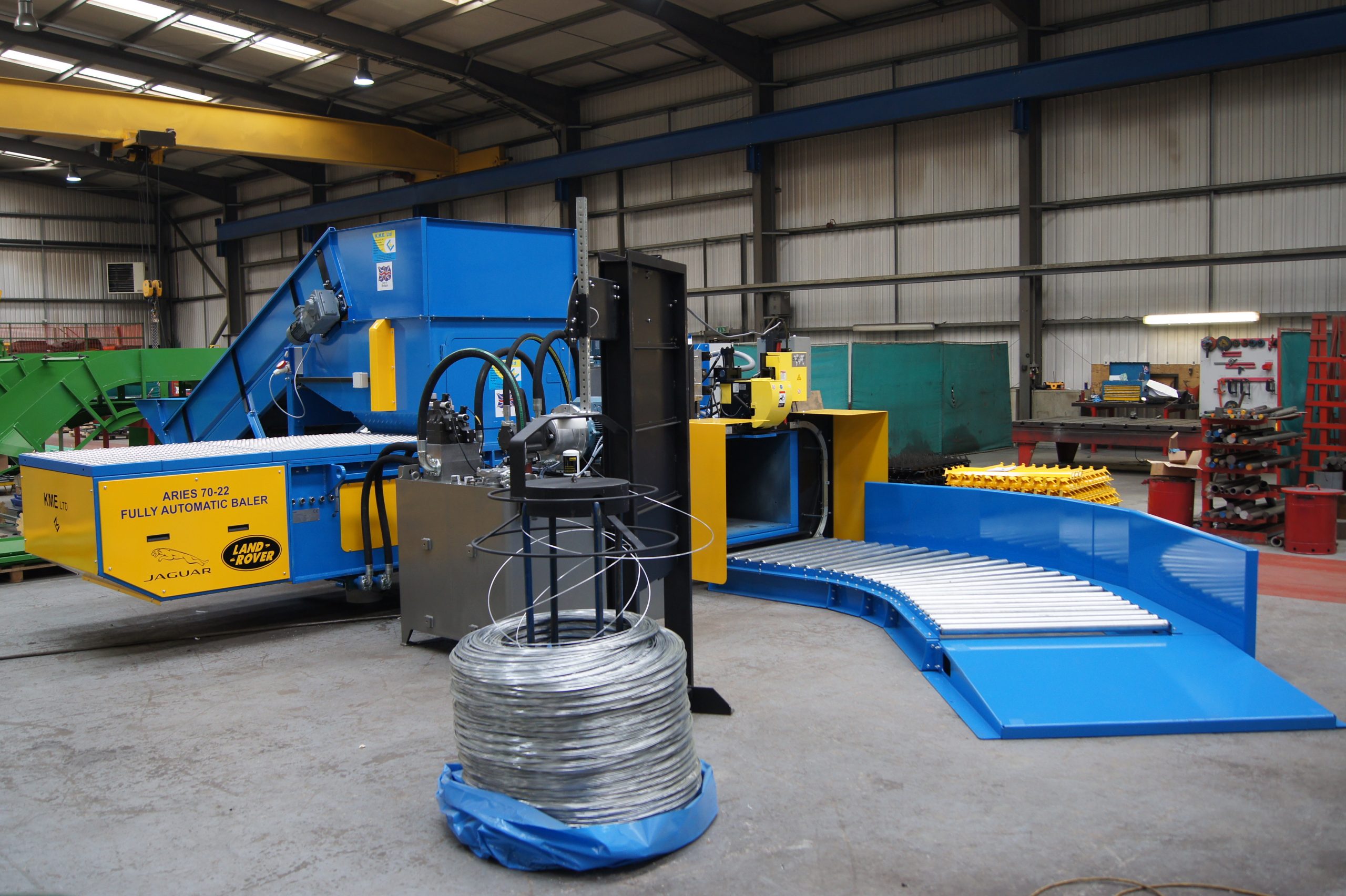 Why Us? why choose a KME Baler
19 Feb 2014
Baler keeps footprint small
Latest editorial from the MRW on the latest Aries twin ram baler.
15 February 2014
What is your product?
Ken Mills Engineering's Aries twin ram baler.
How does it work?
Product is moved into the feed hopper via conveyor, bucket or grab. It compresses the product into high density bales and wires the bale automatically, with minimal effort from an operator.
Where would it ideally be used?
It is used as a standalone baler or as part of a more complex recycling facility for the compaction of recyclable materials such as OCC, bottles, cans, film, hard plastics and so on.
How is it different?
It is designed and manufactured in the UK by Ken Mills. The Aries twin ram baler fits a gap in the market, where people want a high density baler that is fully automatic but still sits in a small footprint.
What benefits does it offer?
Small compact footprint; produces high-density bales; is low cost in comparison to our competition. This is all without compromising quality, as well as support from the company in the UK.
Where has it been used?
The latest installation has been for supply chain management firm Martin Brower, which took delivery of three systems in November and December.
Cost?
The starting price £80,000.
Any savings?
Time and money is saved with an Aries twin ram baler because it can produce four or five times the number of bales produced per hour than a semi-automatic baler, with minimal labour.
What about maintenance?
Maintenance is low and simple to carry out by the client. It is also supported by Ken Mills.
What is its life span?
The company is still servicing the first machines ever made, that were supplied to Coca-Cola in Germany and Wellman France in 1995.
How is it future-proofed?
Balers generally do not become obsolete but electrical parts and safety features do. So we use the most up to date components available and can easily update systems as required by legislation or customer requirements.
Any future applications?
The machine is adaptable and can take plastic banding for different products. It is also being designed bigger and faster.
How many have you sold and where?
We have sold over 50 aries twin ram baler machines around the world since 1995 and 16 of them since 2010. We are looking to enter the Far East and eastern Europe markets as these are the next areas of growth, being about 10 years behind the UK.
Anything else?
Ken Mills designs and builds all of its equipment and recycling systems in-house using the latest in 3D design software. This enables the company to see exactly how the plant is going to look and show clients a virtual tour of the plant.